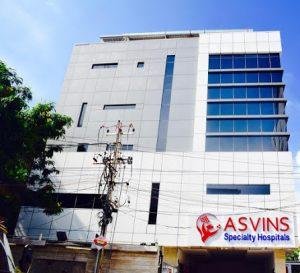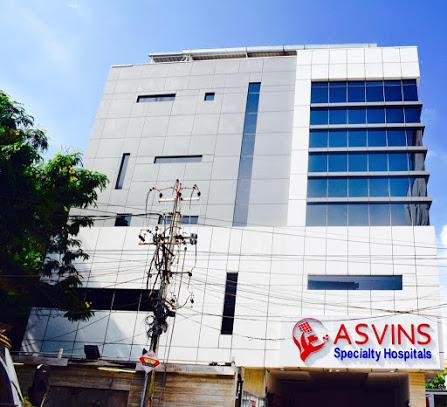 ASVINS SPECIALTY HOSPITALS is a multi specialty hospital, started by a group of renowned specialists to provide expertise care, focusing on cancer and other disciplines. Dr G Suryanarayana Raju, MS., MCh., FRCS, FUICC, the most experienced specialist in cancer, has taken initiative as founder Director and started Asvins Specialty Hospitals in Hyderabad. He is the 2nd qualified Surgical Oncologist in erstwhile Andhra Pradesh and also the 12th in the country.
Asvins Specialty Hospitals is an unit of Amarvati Medicare, a registered body for providing state of art medical facilities with renowned specialists, at affordable prices.
The name ASVINS is taken from ancient Indian history. Asvins are twin brothers and sons of Sun God. They are considered as the physicians of Gods. They are forever young, handsome and athletic.  The logo represents God HANUMAN carrying the Sanjeevani hill from Himalayas to save the life of Lakshman in the epic Ramayana.
Senior Professors and Heads of Departments of Surgical Oncology, Neurosurgery, Urology, Hematology and Hemato Oncology of NIMS Hyderabad have joined in Asvins to bring the specialized care, specially in cases of complex clinical problems. A senior physician expertise in clinical skills with Caribbean exposure is one amongst the team. All of them have clinical and teaching experience of 30 years and more. There are regular interactions and CMEs to the doctors, nurses, technical and supporting staff for better patient care.
Dr G Suryanaraya Raju's experience is 32 years on the whole. He was the founder head of department of cancer surgery in NIMS and treated more than 1,75,000 cancer patients, about 63,000 cancer surgeries were performed in 32 years. He has the credit of training more than 75 cancer specialists in the country. All his students have developed cancer specialty centres /hospitals, across the country.
Some of the unique procedures done by Dr Raju, are Isolated limb perfusion for Melanoma and soft tissue sarcoma of extremities, Intra arterial chemotherapy for Gastric and Hepatic tumors in early 90's.
International recognitions: Visiting Surgeon to Cancer Institute Tokyo, Japan and learned radical surgeries for Esophageal and Gastric Cancers in 1995. Also  to Memorial Sloan Kettering Cancer Center, New York, USA in 1996. Awarded UICC Fellowship to study on Hepatic Surgery in UPMC, Pittsburgh, USA in the year 1996.  Royal College of Surgeons of England has awarded Fellowship FRCS, in 2009. Visiting Surgeon to Baptist Health, Miami Florida USA 2017.
Dr A K Purohit, MS., Mch.,  Senior Consultant Neuro Surgery, was a Senior Professor and Head of Neuro Surgery at Nizams Institute of Medical Sciences, Hyderabad. He was a founder member and Ex President of Indian Family of cerebral Palsy and Indian Academy of Cerebral Palsy. Honorary Director, Institute of Rehabilitation Research and Development, Faculty of Rehabilitation Sciences, Jagadguru Rambhadracharya Handicapped University, Uttar Pradesh.
Dr PVLN Murthy, MS., MCh., MNAMS., FUICC, Senior Consultant in Urology, was a Senior Professor and Head of Urology at Nizams Institute of Medical Sciences, Hyderabad. Received a prestigious national award Dr BC Roy in the year 2018. He has developed cadaveric transplant surgery in NIMS. His Kidney transplantation surgeries were very successful with graft survival of 5-10 years in 80% of the patients. Asvins is geared up to establish Urological specialty under his leadership. Most of the urological operations are done by minimally invasive techniques with good results and less morbidity. Female urology deals with urinary incontinence, urinary fistulae and prolapsed of pelvic organs.
Dr A Narendra,  Senior Consultant Haematology and Haemato Oncology in Asvins, was a Professor and Head of Department in NIMS. He has done his MD in NIMS and DM from AIIMS, New Delhi. He performed the first successful allogeneic stem cell transplantation in 2012. He has expertise in benign refractory blood disorders, which include immune mediated thrombocytopenia, autoimmune hemolytic anemia, Thalassemia Major, Hemophilia, other bleeding disorders, clotting tendencies as well as Hematological Malignancies. Correct diagnosis is important in planning the treatment of hematological disorders.
Cutting edge surgical technology is available with endoscopic and minimal access surgeries for Head and Neck, Gastro-intestinal, Urology, Thoracic and Cancer surgeries.
Molecular laboratory is establishing in the premises of Asvins Specialty Hospitals, Hyderabad.  Advanced laboratory has the diagnostic facilities of molecular and genetic sequencing are available. IHC markers are used in diagnostic and treatment of chronic diseases like birth defects and cancer. Critically ill patients guarded by experienced intensive specialists. Hematological and other oncological cases are treated with targeted therapies, stem cell and Bone Marrow Transplantation.
Mutations and oncogenes are identified for diagnosis and treatment at genetic and molecular level is an attempt to cure.  Many diseases require molecular diagnosis in clinical practices for understanding the genetic aberrations in new born, inherited disorders including cancer. Selection of specific drugs to target the abnormal cells and diseased organ while preserving normal tissues.
A spacious 46,000 sq ft. four floors building with required amenities is available for the patient care. There are three modern operation theatres with state of the art equipment. The intensive care units are specially designed for surgical, medical and high dependency patients. The rooms are designed to cater to different categories of patients.